[Benzinga] Golden Spike Developing Gregory River Copper-Gold Project In Low Political Risk Newfoundland, Canada
Golden Spike Resources TSXV:GLDS | OTC:GSPRF (Frankfurt: L5Y) is a mineral exploration company developing resource projects in low-risk jurisdictions.
GLDS has the right to acquire 100% interest in the 3,425-hectare Gregory River Property in Newfoundland, strategically centered over an approximate 11-kilometer-long stretch of the Gregory River VMS-belt.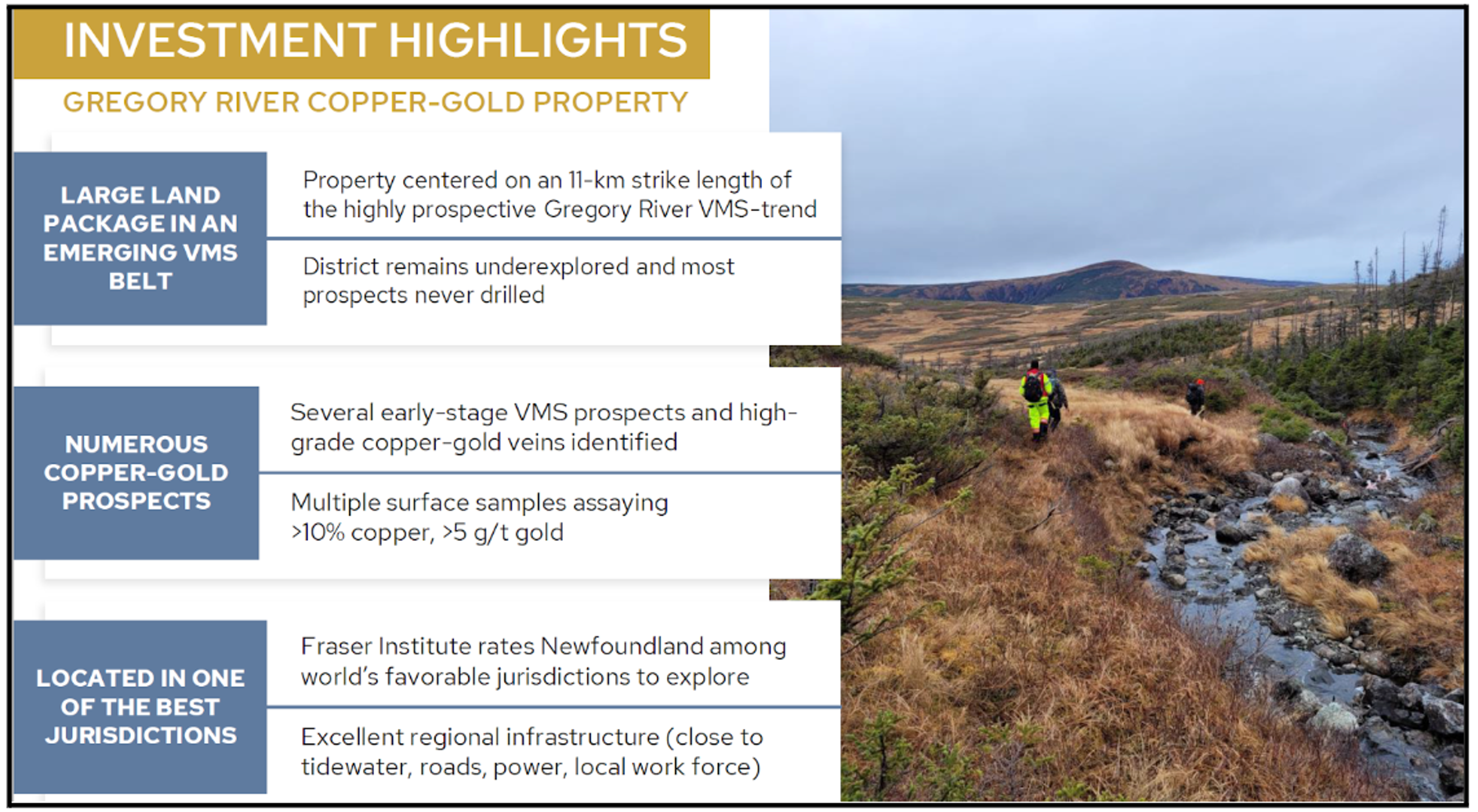 All resource projects carry economic, geological and metallurgical risks.
But by far, the biggest danger is "political risk."
According to Canadian litigation experts, McCarthy Tétrault, political risks include "changes to laws and regulations," "corruption," "weak rule of law," and "nationalization of assets."
Globally, these risks are growing. Lithium explorers in Chile were rattled last month when the newly elected government articulated a plan to take state control of lithium projects.
Even big, established projects are vulnerable to political risk.
"China-backed miner MMG has shut down its vast Las Bambas copper mine in Peru," reported mining.com. "Nationwide protests are in the eighth week of the South American country's political crisis, imperiling 30% of its copper output."
Prior to the shutdown, Las Bambas mine controlled 2% of global copper production.
Located in Newfoundland, Canada, Golden Spike's flagship asset is already largely de-risked from a political perspective. The decline of the fishing industry has created a need for new jobs and new tax revenue streams. The Newfoundland government is actively promoting the resource extraction industry.
"In recent years, the industry in Newfoundland has experienced a real boom, from record high mineral shipments to the highest mineral claim staking activity in decades," states the Innovation News Network,
"Canada is the second most attractive region in the world for investment after Australia, given its policy performance 4th and its geologic attractiveness," states the recently published 2022 Fraser Institute Mining Survey."
"This year, three Canadian jurisdictions ranked in the top 10 in terms of investment attractiveness: Saskatchewan (3rd), Newfoundland & Labrador (4th), and Quebec (8th)," stated the influential survey.
Golden Spike's Gregory River property in Newfoundland has the potential to host Cyprus-type polymetallic VMS deposits and it also contains a cluster of historically explored, high-grade, copper-gold vein structures.
"Golden Spike has a tremendous share structure with strong seed investors, including Eric Sprott and with our Gregory River copper-gold asset, we are in a strong position to grow the company," Golden Spike's President and CEO, Keith Anderson, told SmallCap Communications in an exclusive interview.
"In April, Golden Spike announced the beginning of Phase 2 exploration, starting with 22-line kilometers of Induced Polarization/Resistivity (IP) surveying over two high-priority VMS targets, Lode 9 and Steep Brook, both centered on the Gregory River volcanogenic massive sulphide (VMS) corridor", stated Anderson.
The IP survey over Lode 9 is complete. The Steep Brook survey was delayed due to rapidly melting snow, making access extremely difficult. It will be done later this spring/summer, along with a new potential grid over the Vein Zone soil targets.
"We look forward to receiving the IP results and incorporating these into our exploration database along with our other layers of historical exploration data so we can define targets for drill-testing later this summer."
Lode 9 Target:
Lode 9 occurs in the northern portion of the Property, covering a very favorable geological environment to host Cyprus-type VMS-style mineralization.
The area was previously explored by Noranda in 1991, who completed geological mapping, a soil survey, ground geophysics, and four wide-spaced diamond drill holes.
Only one of the Noranda drill holes (G-91-2) tested the actual Lode 9 prospect, returning 2.12% copper and 0.60 g/t gold over 7.2 meters. (51.0 to 58.2 m).
The Lode 9 target has never been followed up with additional drilling.
Steep Brook Target:
The Steep Brook target is an early-stage target located in the southern part of the Property, centered within the Gregory River VMS-corridor.
Early-stage work by Noranda and Duval in the 1980s and 1990s identified Steep Brook as a favorable VMS target. Only one historical drill hole was completed by Duval in 1984 but was collared too far east, missing the main rock and soil anomalies. Even so, the hole still returned a wide interval of anomalous values, including 0.12% Cu and 0.17 g/t Au over 65.6 m (70.6 – 136.2 m).
Vein Zone Target:
Clustered in the northeast of the Property are a series of historically explored 1.0 to 5.0 m wide veins with grades of 1% to 15% copper, along with 0.1 g/t to 5 g/t gold and anomalous zinc and cobalt. Recent soil survey results show multiple subparallel anomalies with potential lengths of up to 1.5 kilometers for the veins
The resurgence of mineral exploration is returning Newfoundland to its roots. Mining is one of the province's oldest industries. The Maritime Archaic Indians quarried local stone 7,000 years ago, and the first major modern mining development began in Tilt Cove in 1864.
"The estimated activity for 2022 in Newfoundland is projected to result in over CND $5.4 billion in mineral shipments," states the Innovation News Network, "CND $189 million in exploration expenditures, and employment of over 9,000 person-years".
Currently, the provincial mineral industry has 11 mines producing six metal and eight non-metal commodities.
"Newfoundland has a long history with resource extraction and has tremendous mineral potential, yet still remains underexplored," Robert Cinits, Director/Geologist of GLDS, told SmallCap Communications. "Lately, companies are starting to realize this and many of the significant gold and base metal districts are becoming completely staked. We were very fortunate to acquire Gregory River in Newfoundland when we did."
"It is an exciting opportunity with intriguing mineral potential," Cinits continued, "The location of the project and access to a quality local workforce are significant benefits that ensure we are getting good value for our dollar working there."
"I compare this to many mining and exploration projects I've seen in different countries and the combination of its rich mineral endowment, under-explored land package and low-political risk, make Golden Spike a unique investment opportunity," stated Cinits.
"Later this summer, we will have the initial data back from our Phase 2 exploration program," stated Anderson. "With this data in hand, we will move forward to drill test the best targets later this year on the path to unlocking shareholder value."
Featured image sourced from Shutterstock
This post contains sponsored advertising content. This content is for informational purposes only and not intended to be investing advice.