Potash is the cornerstone of the world's yield-boosting fertilizers.
That makes potash a critical mineral for ensuring food security and the basis of a growing multi-billion-dollar global market.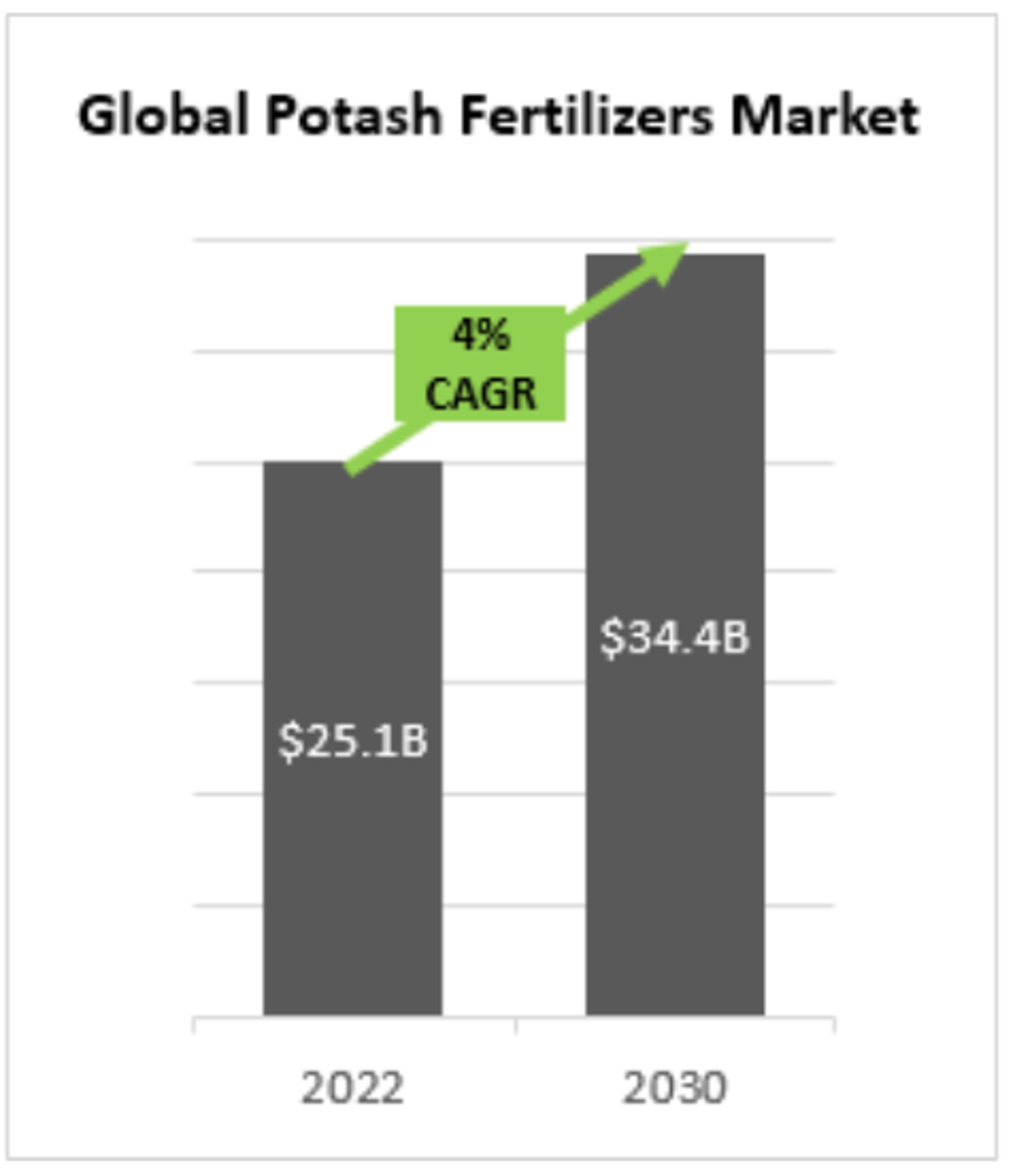 Data source: Global Industry Analysts, 2023
But for newly listed Sage Potash Corp. (TSXV: SAGE.V) a potash exploration company with a very large portfolio of mineral rights in Utah's prolific Paradox Basin – the greatest opportunity by far is America:
World's #3 agricultural producer
World's #1 agricultural exporter
Consumes 27% of the world's potash fertilizers
While America is a major potash consumer, what's much more important is the nation's unrealized potential to increase its potash production. The US has the world's 4th largest potash reserves (behind Canada, Russia and Belarus), but only represents about 1% of global mine production.
Then there's the factor of supply chain security.
The world potash supply was hit hard last year due to economic sanctions on Belarus and Russia. That pushed prices higher. In 2022, average potash prices in the US shot up by over 51%…but America failed to fully cash in on the opportunity due to their production dropping by 8% and their imports growing by 8%.
With the US relying on imports for over 95% of their potash despite having world-class reserves, Sage Potash Corp. (TSXV: SAGE.V) is focused on meeting a significant portion of US demand through a new domestic potash supply.
Quick Timeline to Production & Potential Cash Flow
One of the big advantages that stands out with Sage Potash (TSXV: SAGE.V) is just how short their timeline could be for initial projected production.
Unlike large "greenfield" projects that are often 5 to 10 years away from production at best, Sage's approach has the benefit of utilizing incremental production modules. That means each production stage is its own stand-alone economic unit. It also means the company can begin with modest CAPEX and production targets. This modular approach also changes the back-end loaded risk profile associated with large projects since it incrementally de-risks the project both technically and economically at the front-end, thereby eliminating the potential of stranding expended capital in the event of a commodity downturn.
That single advantage of being "close to cash" has the potential to create multiple advantages:
Increased risk mitigation
Greater potential to tap into strong potash market prices
Cash flow on hand to incrementally ramp up hiring, training and production
The company has engaged RESPEC, Inc., as their Engineering Geoscience Partner in advancing the project's cavern design, engineering and Preliminary Economic Assessment (PEA). RESPEC has been working on potash deposits globally for half a century, including planning and execution of advanced Solution Mining projects like Sage Potash plans to use.
Solution Mining is a proven technique that extracts potash deep underground by dissolving it with brine (salt water), then pumping it to the surface for extraction by natural evaporation or, where water is scarce, as in the case of Sage Potash, mechanical evaporation, where the brines are recirculated back into the caverns in a close loop.
It's easy to see why the company chose this approach:
Rapid initial development
Lower CAPEX, OPEX, and water consumption
Less environmental impact, land footprint, and visual impact on surroundings
Systematic ramping up of production through modular "packaged" units
Increased tolerance to climate/weather impacts
Year-round production
In their efforts toward advancing their project, Sage Potash next steps include drilling 2 new exploration wells that will not only expand their resource calculations but double as a pilot production well for cavern development to better define the project's PEA and engineering for an initial commercial module. For more details, see the company's corporate presentation.
Large Scale, High-Grade Potash Resource
The full significance of Sage Potash's (TSXV: SAGE.V) rapid timeline really hits home when you see the size and quality of their potash land portfolio and its resource potential.
We're talking over 83,000 acres (~130 square miles) of State and Private Mineral leases and BLM Prospecting Permit Applications in Utah's prolific Paradox Basin. According to the US Geological Survey (USGS), Paradox Basin hosts potash resources of about 2 billion tons (that's 28% of all the potash resources in the US). Better yet, there's only 1 potash mine in the area: Intrepid Potash Inc.'s Cane Creek mine near Moab, Utah, which has been in continuous operation for 60 years.
Historical exploration on Sage Potash's property includes an important discovery drill hole by a previous operator. Core samples and wire log analysis identified 2 flat, thick potash beds with high potash grades and favourable commercial characteristics. According to the company's corporate presentation, the project has an inferred resource of 280 Million Metric Tonnes, potentially enough for hundreds of years of production.
Source: Sage Potash corporate presentation
Supportive Jurisdiction & Modern Infrastructure
Sage Potash (TSXV: SAGE.V) made a smart choice of project location.
Utah is a safe, politically stable mining-friendly jurisdiction with enough undeveloped potash resources to potentially supply much of the US demand.
The Paradox Basin, meanwhile, has all the infrastructure and expertise needed nearby: highways and roads in and out of the project area, low-cost power, skilled workforce, mining exploration and development supplies and services.
Highly Experienced Team with Major Skin in the Game
Saving the best for last, there's the Sage Potash (TSXV: SAGE.V) team.
Heading into their recent listing, management and founders held a reassuring 36.7% of the company (fully diluted pre-financing). That level of internal investment speaks volumes about the leadership's confidence in the company's ability to execute.
And when you look at the team's depth of experience in all aspects of project development, Solution Mining, surface processing, mine and potash operations, fertilizer distribution and business building, it's no surprise they're confident in their ability to execute.
Here's just a glimpse of the team's calibre:
Peter Hogendoorn, CEO: 30 years of financing public and private junior mining companies
Pat Avery, Pres. Sage Potash (US) Corp: 30 years in petroleum, chemicals, mining, fertilizer, and construction/project management; former President of Intrepid Potash
J, Patricio Varas President P Geo COO/VP Exploration: 36+ years in mineral exploration, project management and corporate leadership. Founder of Western Potash.
Matthew Lechtzier. Director: Senior VP of Ivanhoe Mines and Ivanhoe Capital for 25+ years
Gordon Ellis Director, P Geo: 50+ years in mining and resource development
Selma Sierra, Director Sage Potash (USA) Corp: Recently appointed to Division of Oil, Gas and Mining Agency of Utah
For more information, you can download the Sage Potash (TSXV: SAGE.V) corporate presentation, and to sign up for their latest news alerts, visit sagepotash.com or speak to your financial advisor.
Featured image sourced from Shutterstock
This post was authored by an external contributor and does not represent Benzinga's opinions and has not been edited for content. This content contains sponsored advertising content and is for informational purposes only and not intended to be investing advice.
Recent Posts
View original article Golden Spike Resources TSXV:GLDS | OTC:GSPRF (Frankfurt: L5Y) is a mineral exploration company developing resource projects in low-risk jurisdictions. GLDS…

The hottest investing trend in town right now is Artificial Intelligence (AI). 50 years ago, AI was featured in Sci-Fi…

Harnessing The Power Of Influencer Marketing For Investor Relations Professionals It's no secret that the function of investor relations professionals…