Uranium could be the solution for a carbon neutral future, and some commodities experts are predicting that a bull market is around the corner.
Evolving scientific evidence and data comparing nuclear energy to other energy sources are showing that uranium-powered nuclear energy might very well be the clean alternative the world needs for a green future.
Here are three reasons why uranium-powered nuclear energy could be the clean energy the world needs for a green future:
Efficiency – nuclear is the most efficient means of extracting energy from a fuel source, requiring just 1 kilo of uranium to produce the same amount of energy as 160 tons of coal
Sustainability – uranium-powered nuclear energy plants are one of the most environmentally friendly energy sources when it comes to carbon emissions, only falling behind solar & hydro
Safety – nuclear energy is actually one of the safest energy sources when it comes to workplace hazards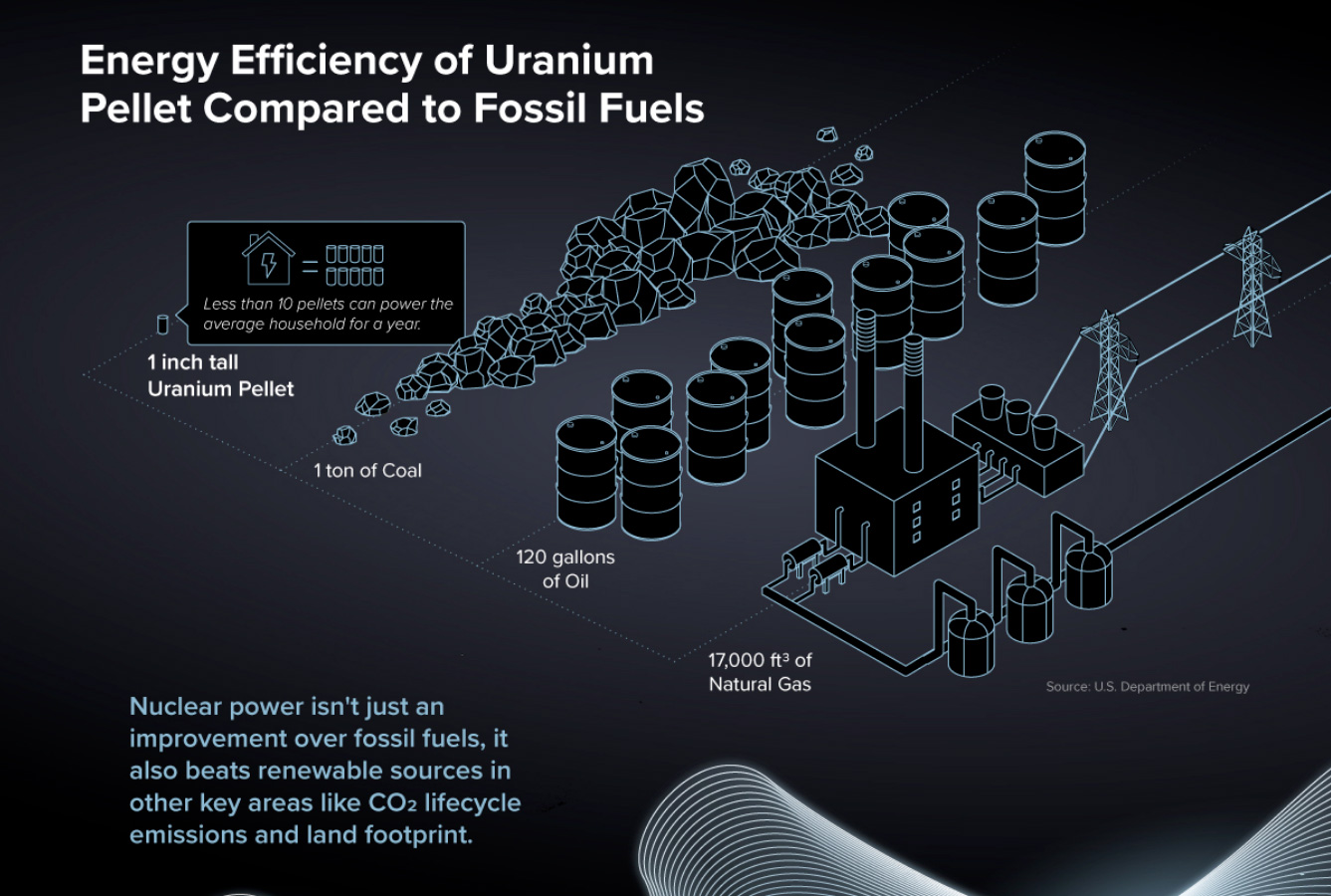 These three reasons put up a strong fight for the benefits of nuclear energy.
But what may be the most persuasive reason has to do with humanity's insatiable need for energy, which is predicted to grow 50% by 2040.
If this occurs without us as a society first transitioning to alternative energy sources that produce fewer carbon emissions, we'll be in real hot water (literally, as climate change will be rearing its ugly head in response to our emission abuse).
Nuclear energy powered by uranium can meet this need for electricity without increasing carbon emissions. In fact, if we transitioned to nuclear energy, we would actually see our carbon emissions decrease even as we increased our electricity usage.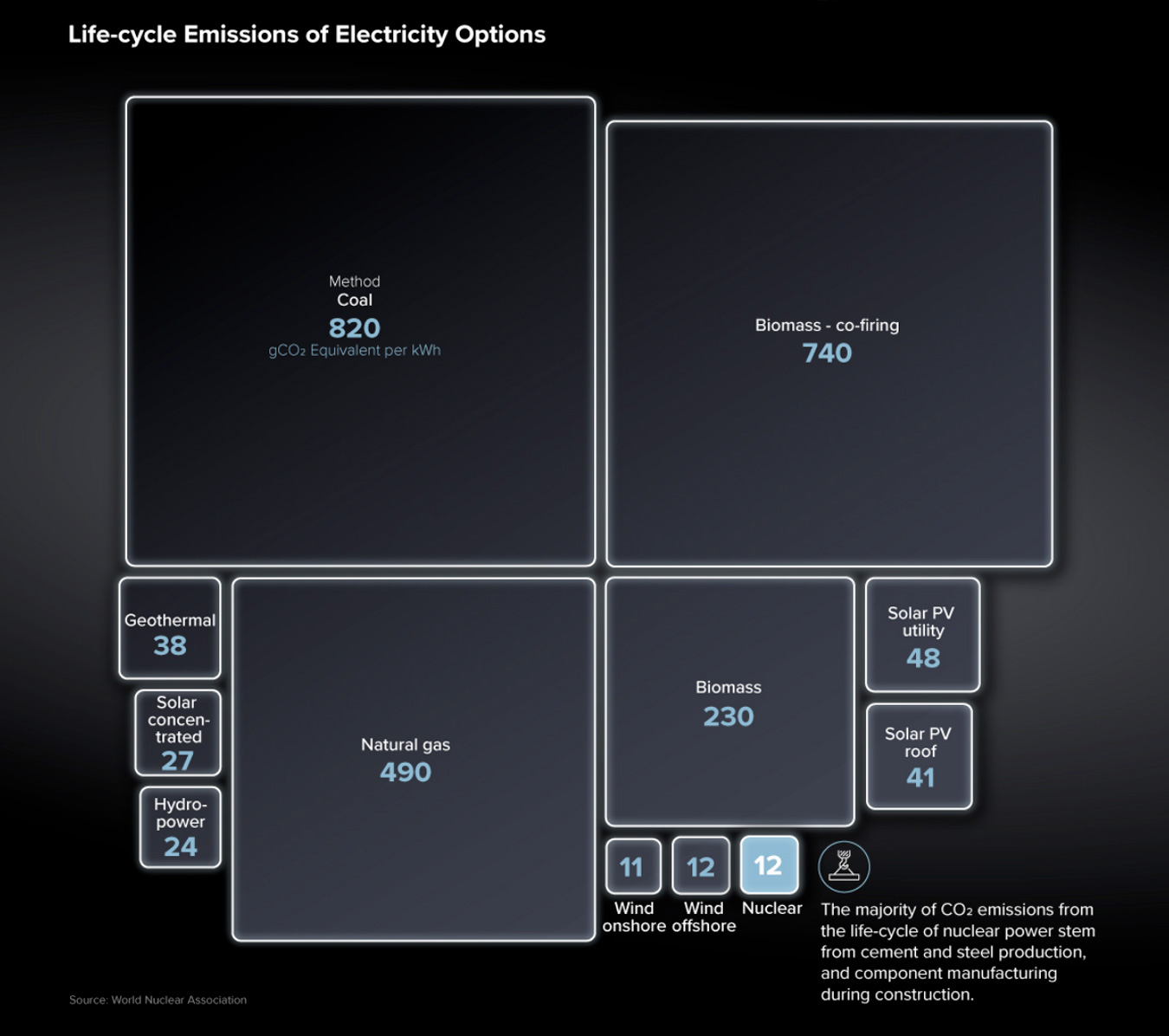 Nuclear energy: a brief overview of how it works
When a neutron collides with a uranium atom, it splits it, releasing an enormous amount of heat and energy in a process called fission. This heat and energy are used to generate electricity.
This oversimplification can be further broken down by stating that nuclear energy requires two things: uranium and nuclear power plants.
Explosive industries: nuclear power plant development & uranium mining
With the growing buzz surrounding nuclear energy, we're now seeing companies and countries across the globe race to become leaders in both nuclear power plant production and uranium mining.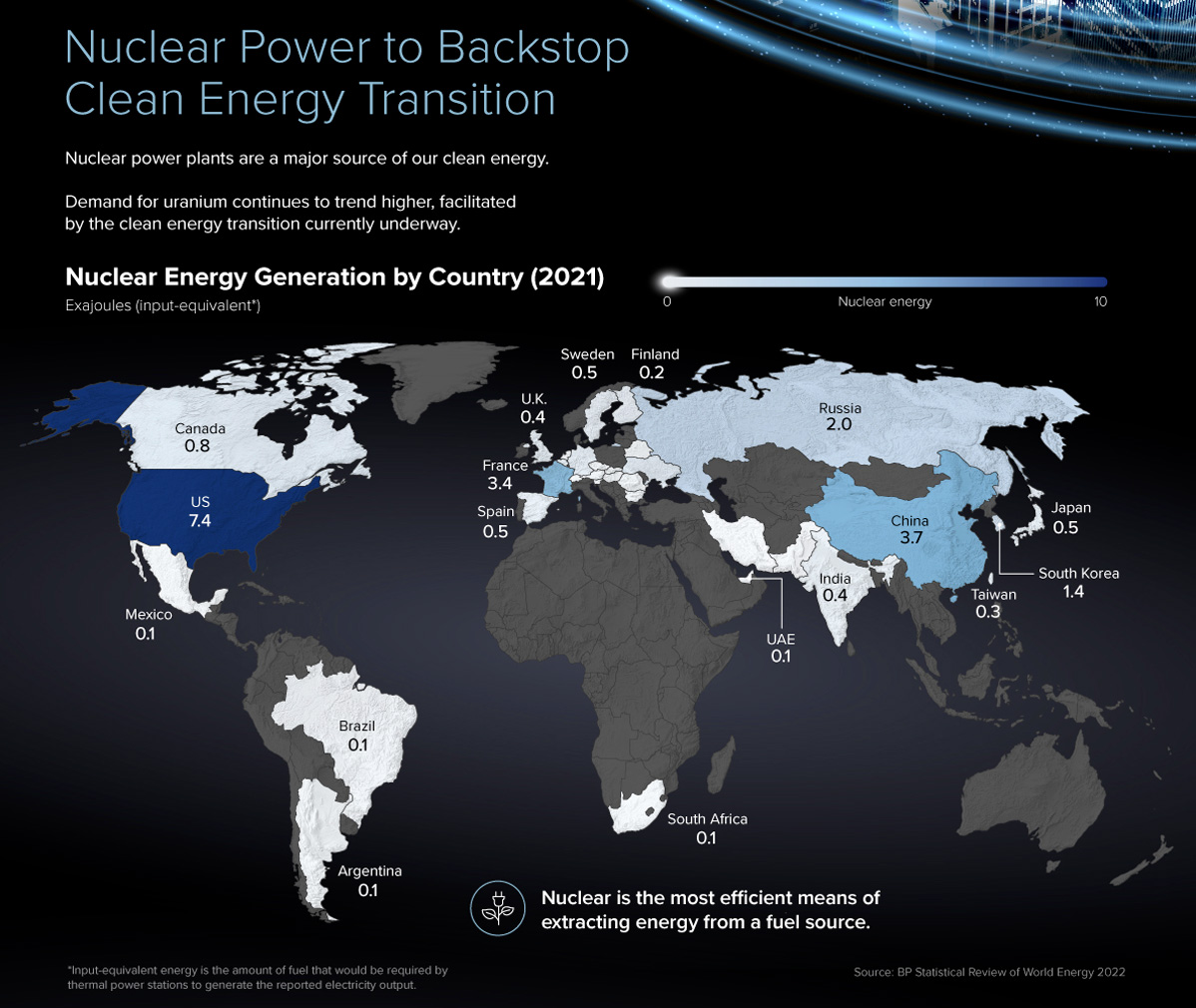 Nuclear power plants are popping up or reopening at an unprecedented rate.
China alone has plans to open 150 nuclear power plants in the next 15 years, which would be more reactors than the rest of the world has built over the course of the last 35 years. This project is estimated to cost $440 billion (or ten Twitter's according to Elon Musk's original offer) and would position China as the world's single largest owner of nuclear reactors. As the world's top producer of carbon emissions, China is counting on nuclear energy to play a major role in its commitment to achieve net-zero emissions.
Other countries, like Sweden, are making political moves to overturn legislation that has prevented them from fully operating their nuclear power plants since the 1980s. Just last month, Sweden successfully announced that their power plants will be resuming operation. This decision falls in line with the Tidö Agreement, which says the energy policy goal is no longer 100% renewable energy, but 100% fossil-free energy, made possible by nuclear energy.
Along with the rush to build and reopen nuclear power plants, mining companies are also eager to tap into uranium reserves to meet rising demand.
Where to find the highest grade uranium deposits in the world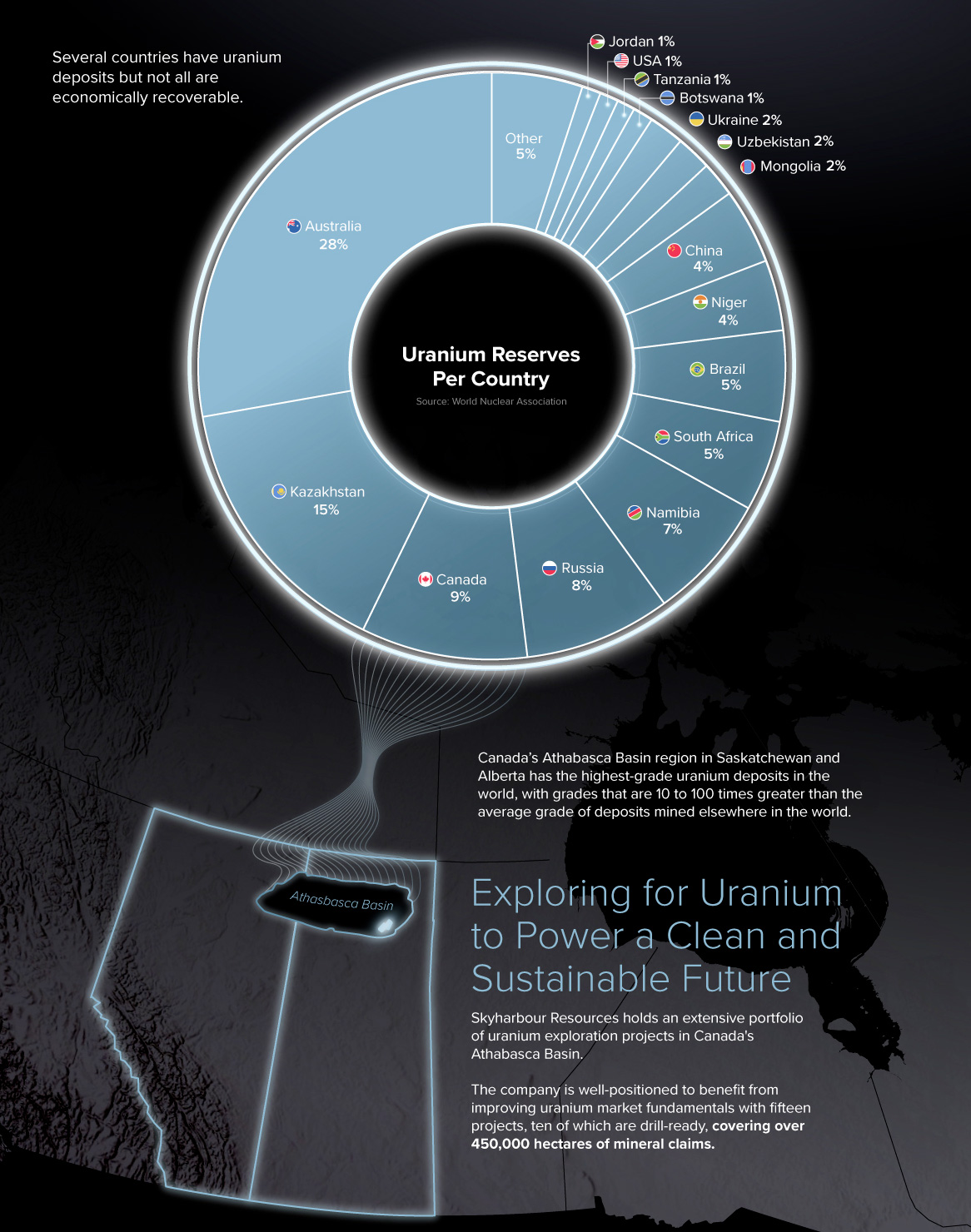 Australia and Kazakhstan are home to the largest and second largest uranium reserves, respectively, followed by Canada, Russia, Namibia, South Africa, Brazil, Niger, and China as the major players in the space.
Despite being the third largest, Canada's uranium reserve is the most valuable as it produces the highest-grade uranium, which is rated 10 to 100 times higher than deposits found elsewhere. This reserve is located in the Athabasca Basin along the northern Alberta-Saskatchewan border.
Developments in the uranium mining industry
Cameco, the Canadian mining powerhouse, operates out of the Athabasca Basin and has access to the premium uranium deposits located there. The company is one of the world's largest producers and distributors of uranium, and announced just last week that they signed a uranium supply agreement with China Nuclear International Corporation under undisclosed terms.
Earlier last month, Cameco also made a two-point-two-billion dollar investment in Westington Electric, which services the global development of nuclear reactors.
Both these moves suggest that Cameco believes uranium will be in high demand in the coming years, and they're preparing to meet the new demand for supply.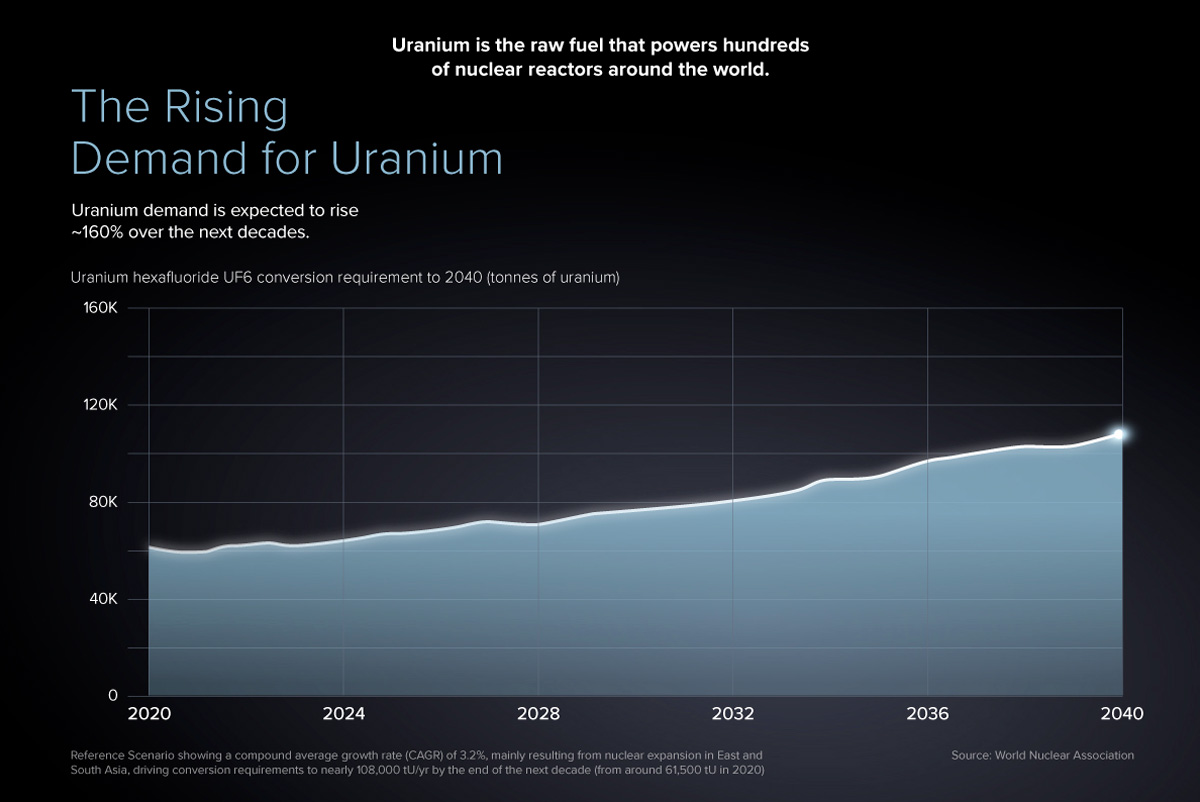 What are investors saying?
Despite being a volatile investment choice over the last year, uranium stocks are still trading today at nearly a five-year high, representing an industry resurgence.
This is causing many to ask, "Is a uranium bull market around the corner?"
It's looking like this may be the case, and we're seeing investments flow into both the uranium mining and nuclear reactor development spaces.
So for investors looking to get in on the action, it's important to take into account more than just the size of accessible uranium reserves.
What should investors look for when picking uranium mining and exploration companies to invest in?
Commodities expert Jesse Day shared to current and potential uranium mining investors in a recent interview with Jay Martin the top things to consider when choosing which project to invest in.
Here are the top three things to consider when choosing which uranium mining project to invest in:
Jurisdiction – geographically diversify your portfolio
Economic Assessment – look for long term viability
Management – should have skin in the game
Jurisdiction
Investors will be able to predict when and if a company's uranium mining project will be able to go into production if they know how the project is governed.
For example, many investors will strictly invest in mining opportunities that operate within the Athabasca Basin as Canada appears to be less risky than other countries like Niger in Africa.
This assumption fails to take into account Canadian jurisdiction, which involves permitting, compliance with environmental regulations, and respectful negotiations with the local indigenous populations. These laws are beneficial in that they protect the local people, environment, and government, but they can drastically slow down a project, sometimes preventing production entirely if capital runs out.
In comparison, mining and exploration projects occurring in riskier countries such as Niger can reach production much quicker if all goes all planned.
The risks and rewards inherent to each region justify Day's suggestion for investors to geographically diversify their portfolios when it comes to selecting uranium mining stocks.
Economic Assessment
When choosing a company to invest in, it's important to make sure it's been evaluated in some way. This can be a feasibility study, a pre-feasibility study, or any other data that shows this project is likely to be profitable.
For riskier investors, this isn't a make-or-break requirement, but for newer investors that have less experience in the uranium market, an economic assessment can prevent bad investments.
Management
An important thing to look at is whether or not the management team has skin in the game. This can reflect how confident they are in the viability of their project.
---
Based on this advice, here are the top three uranium mining projects that are worth looking into – and why.
Top Uranium Mining Investment Opportunities According to Commodities Expert Jesse Day
(TSX: GLO)(OTCQX: GLATF)
This project is a great example of a management team having skin in the game. Stephen Roman, the CEO of Global Atomic, is the company's biggest shareholder. This shows that he is very sure that the project will be successful, and is putting his money where his mouth is.
Global Atomic has already reached a deal with the Niger government and has permits in place, with Phase 1 expected to begin in early 2023.
Another upside is that the company sources all production equipment locally, preventing costly and time-consuming setbacks that result from supply chain delays.
Lastly, Global Atomic also possesses a profitable zinc operation in Turkey, which can financially float the Niger mining project as it gets up and running.
(TSX: NXE) (NYSE: NXE) (ASX: NXG)
Even though this company lacks a clear timeline for production, its uranium mining project in the Athabasca Basin is a prime target for acquisition because of the location.
If acquired, the stock price would experience a huge upswing, benefiting early investors.
(NYSE American: UUUU) (TSX: EFR)
Energy Fuels gives investors the chance to get involved with the U.S. market, which is a very important uranium market to be exposed to.
As of now, the US produces the most nuclear energy of any country in the world. Mining operations in the US support these nuclear power plants by giving them a local source of uranium. If the US decides to limit business with foreign suppliers, as there have been talks of, Energy Fuels is positioned to be a prime supplier.
The company also holds a history of successful uranium production, and currently operates a rare earth mining project, both valuable assets to its long-term success.
The future of nuclear
So for those looking to invest in uranium mining and nuclear energy, the best place to begin is by doing some research.
Take into consideration Jesse Day's advice above.
Education and diversification are the keys to success when investing in this resurgence.
Want to stay up to date with evolvements in this space?
Subscribe to SmallCap TV and follow the SmallCap blog for industry updates.